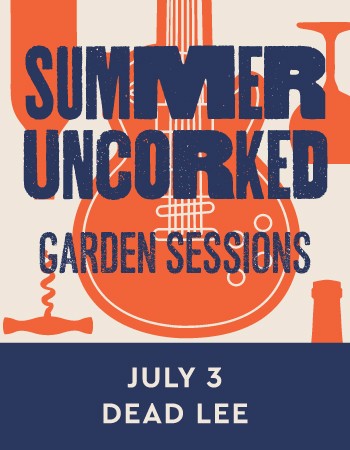 Summer Uncorked Garden Sessions | Dead Lee
Summer Uncorked has been reimagined for today's social-distancing times. We are excited to bring back LIVE MUSIC and the artists we love for a little Friday night fun at our heritage Eola Hills Wine Cellars. Our backyard bar is the perfect spot for Summer Uncorked Garden Sessions, every Friday in July and August from 6:30 - 8:30 pm. Pick up a delicious local meal from our food truck partner of the week, grab a chair (or bring your own) and enjoy the sweet sounds of summer and some semblance of normality in these strange times.
JULY 3, 2020 | Dead Lee
with Tucky's serving up delicious southern inspired food
Join us for one and all of our Summer Uncorked Garden Sessions!
Individual Tickets to our Summer Uncorked Garden Session with Dead Lee have sold out online. Please contact events@eolahillswinery.com or call 503-623-2405 to inquire about last minute availability.