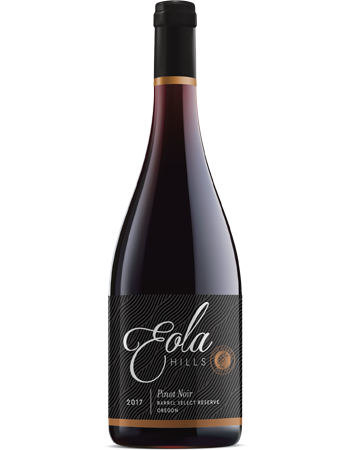 2017 Pinot Noir Barrel Select Reserve
This reserve Pinot Noir is a thoughtful barrel-selection showcasing our finest lots in the cellar which were fermented separately by vineyard and block and blended to create a perfect picture of each given Oregon vintage. The 2017 has proven itself to be full of fruit and full of life. Flavors of dark cherry, ripe berries and earth mingle with smoky tannins in this premium Pinot.
Wine Profile
Vineyard Notes
Wetherell Vineyards (Umpqua Valley), Mistletoe Vineyards (Mount Pisgah), Eola Hills' Legacy Estate Vineyard (Eola-Amity Hills), Oak Grove Vineyard (Eola-Amity Hills), Daffodil Hill (Eola-Amity Hills)
Food Pairing Notes
This elegant wine can be enjoyed on its own or paired with lightly seasoned foods. Try it with salmon garnished with lemon peel and dill, or with a marinated and grilled pork tenderloin, served with an arugula, goat cheese and blueberry salad.
Product Reviews
Jeremy Allgaier
(Nov 3, 2020 at 9:30 PM)
We've been disappointed with wine lately, especially reds. This wine reinvigorated our taste buds. Excellent balance, perfect tannins, zero acidic aftertaste. Just darn good wine. Thank you!
Destiny Moore
(Jan 26, 2021 at 2:27 PM)
You can never go wrong when choosing the Barrel Select Pinot Noir from Eola Hills. Every vintage their winemakers know what the customers want from a great glass of Oregon Pinot.