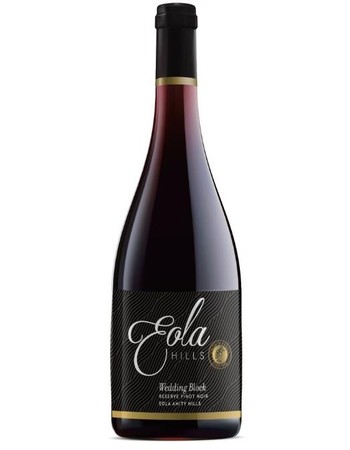 2021 Wedding Block Pinot Noir
This Pinot Noir is one rooted in jubilant memories from this heritage block of our Willamette Valley vineyard. If discovering a great wine feels a bit like falling in love, this Pinot Noir delivers. Exuberant red currants and lush layers of dark bramble fruits surrounds a structured palate rich with cola, baking spices and a resonant finish. The perfect pairing for any special day.
Wine Profile
Vineyard Notes
Eola Hills' Wolf Hill Vineyard - Eola Amity Hills AVA, Elevation: 283 feet, Vineage: 22.8 years (average), 43 acres, Soil Profile: Jory, Nekia, Hazelair, Woodburn, Willamette, Dupee, Concord.
Food Pairing Notes
Try this Pinot Noir with seared tuna rolled in peppercorns or accent in pairings featuring ginger, thyme and fresh rosemary. A favorite complement to garlic stuffed pork roast marinated red wine, vinegar and rosemary.