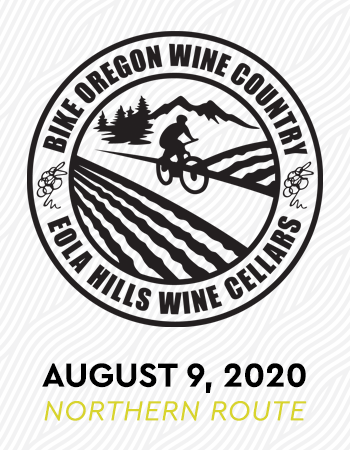 Bike Oregon Wine Country | August 9, 2020
It's a strange time, but it may be the perfect time to opt outside for Eola Hills Wine Cellars' famous Bike Oregon Wine Country rides through scenic Willamette Valley wine country roads. Our adventure-loving staff invite you to hit the road for these Sunday cycling events each week in August. Each ride will finish in The Gardens at Eola Hills Wine Cellars for a private and pre-packed BBQ complete with live music and, of course, wine!
To ensure a safe experience for all, we will be skipping our normal winery stops throughout the route. Instead, our wonderful winery partners will provide complimentary tasting cards to all BOWC cyclists to redeem individually, allowing for proper social distancing or to accommodate any reservations-requests by our typical winery stops. Registration is limited this year and availability will be capped at 100 riders.
View FAQ's, Safety Measures & Social Distancing
Post-Ride Boxed BBQ
When purchasing tickets below, please select a Post-Race Boxed BBQ Option catered by our local favorite, Willaby's. All options are served with Nicoise-Style Orzo Salad, Fresh Seasonal Fruits and Berries (GF, Vegan), Rosemary-Honey Rolls with Whipped Butter, and Fudgy Brownies (V). Boxed BBQ Options include:
Option 1 | Teriyaki Glazed Salmon Bites - NW salmon with teriyaki glaze served room temp with wasabi aoli.
Option 2 | The Very Best Grilled Chicken - Chicken breast marinated in rosemary, thyme, garlic and brown sugar and grilled to perfection.
Option 3 | Vegan Wrap - Crisp greens, sugar snap peas, pepitas, broccoli, apple, carrots, grapes, hummus and vinaigrette.
Timeline:
7:00AM | Registration Opens (Email events@eolahillswinery.com to request a registration slot to ensure proper social distancing. Registration slots are spaced out every 10 minutes starting at 7:00am, 7:10am, 7:20am, 7:30am, 7:40am, and 7:50am).
7:30AM | Riders can elect to hit the road
10AM-Noon | Midi-Lunch Available
1-3PM | Post-Ride BBQ & Live Music in The Gardens at Eola Hills Wine Cellars