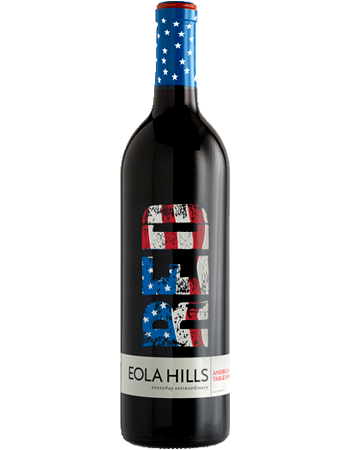 NV Classic Patriot Red Blend
This bold and delicious red wine is a blend of Zinfandel, Sangiovese, Merlot and Pinot Noir from three states –Oregon, Washington and California. The wine opens with aromas of intense fruitiness that lead into a soft and smooth palate with flavors of red berry jam.

A portion of proceeds from each bottle of Patriot Red purchased goes towards supporting different 501c3 Nonprofits (announced on the Fourth of July each year) for veterans and first-responders.

Serving Wine & Serving A Cause:
On July 4, 2021, Eola Hills Wine Cellars is excited to declare a donation of $5,782.82 to Team Rubicon, the partner non-profit for our Eola Cares 2020-2021 Patriot Red Campaign.
Announced each year on the Fourth Of July, the Eola Cares Patriot Red Campaign provides support for veteran and first-responder organizations through an annual donation of a portion of proceeds from the sale of its popular non-vintage red blend, Patriot Red.
"This American wine embodies our company values by building community and benefitting important causes in our region and country," said Winemaker and General Manager Steve Anderson.
Team Rubicon was selected as the 2020-2021 charitable partner because of its mission of mobilizing veterans to continue their service by helping prepare, respond and recover from disasters and humanitarian crises. Over the past year, the organization became a powerful force in the fight against COVID-19.
"In 2020, Team Rubicon stepped up to meet community needs brought about by the pandemic from supporting food banks to COVID-19 testing to vaccination sites. This past year also brought about a historic storm season,"said Brian Calcagno, Partnerships Associate at Team Rubicon. "Through incredible resilience of our veteran volunteers and companies like Eola Hills Wine Cellars, we were able to make the greatest impact our organization has ever seen - over 9.7 million people helped!"
"As we wrap up our 2020-2021 partnership with Team Rubicon, we are very excited to take time this Fourth Of July to announce our next union with Team River Runner," said Anderson. "Their inclusive efforts to create enriching recreational experiences for veterans connects with our brand's work to find ways to support a healthy lifestyle with a focus on wine and wellness."
Team River Runner creates an outlet for veterans and their families to find health, healing, community, purpose and new challenges with adventure and adaptive paddle sports and lifestyle based programs.
"With their national presence and active regional chapters, we see so much opportunity to collaborate with Team River Runner in this next year," said Anderson. "From fundraisers and benefit dinners, our hope and goal is to make an impact for these organizations and the people they support."
Read More about our partnerships and our #EolaCares charitable programs.
A percentage of profits benefit Team River Runner - an outlet for veterans and their families to find health, healing, community, purpose and new challenges with adventure and adaptive paddle sports and lifestyle based programs.
Product Reviews
Natasha
(Jun 24, 2020 at 1:55 PM)
It's a great wine for summer. I live in AZ where hot days usually don't mix with red wine. However, this particular wine is delicious, fruity, full body, yet light enough to enjoy when its 108 out.
Ann Callister
(Jul 1, 2021 at 4:07 PM)
We just tried this while visiting family in OR on 6/26/21. It was so good we bought some to take back home to WA. Big jammy bouquet and flavor!
Andres Roberts
(Oct 24, 2021 at 8:22 PM)
I'm a marine mommy snd I seriously only bought several bottles for the Military bottle and to support our Veterans 🇺🇸 I had one bottle left and decided to give it a whirl & wow it is absolutely delicious!