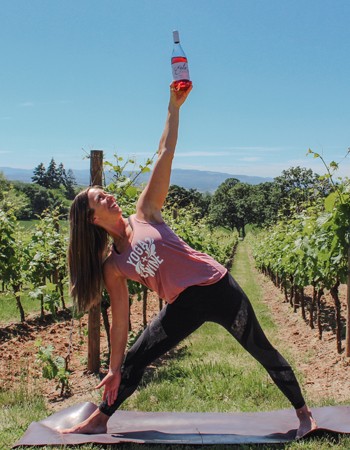 Private Yoga + Wine Tasting
Start the New Year with your mind-right. Join Eola Hills for this limited private experience featuring our friends from Yoga+Beer, instructors Mikki Trowbridge, Jaime Lawrence and Kristen Aubert. Grab your crew and join us at Eola Hills for a private yoga class, followed by a wine flight and charcuterie spread. A minimum of six people are required to book this experience with a maximum of nine people. Only 10 sessions are available.
Following your booking, our Eola Hills Events Manager will reach out to confirm a reservation date and time (choose between 9-11am or 6-8pm) that works with your group and our yoga partners. Reservations must be scheduled at least 14 days in advance and the experience used by the end of May 2021. Accommodations will be made to ensure safety. Due to changing COVID19 restrictions, please allow for some flexibility if additional regulations are announced and your experience must be rescheduled.
$65 per person (minimum of six people and maximum of nine people)
Includes private yoga class, wine flight and charcuterie spread
Choose a 9am-11am or 6pm-8pm experience
Must be scheduled 14 days in advance and used by the end of May 2021
Only 10 sessions available
Classes taught by Yoga+Beer instructors
Private Wine Tasting provided by Eola Hills