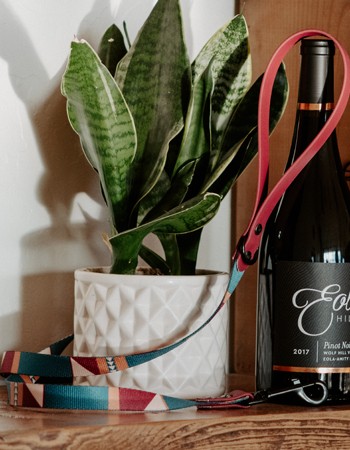 Summit Leash-Burgundy
Pacific Hound has combined BioThane® and polyester webbing to create the ultimate travel accessory for your visit in wine country. Our leashes come standard with a d-ring at the base of the handle for waste bags for an easy way to clip the leash across body. This is a leash you never have to worry about - feel free to let your dog drag it in the mud or get soaked by the rain. With a little soap and water, your Summit Leash will be good as new and ready for your next adventure!
DETAILS:
4' length with lobster clasp
Water resistant
UV resistant
Easy to clean
Lightweight
Durable
BURGUNDY: To honor our great Pinot Noirs - the Willamette Valley's most cherished wine varietal. Vibrant in color and treat for your palate.
COPPER: Our Vines are rooted in the ruddy, iron rich Jory soil that stemmed from volcanic basalts and helps us produce world famous Pinot Noirs.
BLUE: Denotes the Missoula Floods, which gave rise to the Willamette Valley many years ago and inspired the name of one of our Wiking Trails.
CREAM: Cream highlights our marine-sedimentary soils, another layer of our bedrock from before the floods that is rich in fossils and geological treasures.
ARROWS: Embody the verdant forests so iconic of the Pacific Northwest and our property which boasts Great White Oaks and fir trees.